4.5mm Cobalt Jobber Drill
Product Description
4.5MM COBALT JOBBER DRILL
Cobalt jobber drills are a preferred drill for harder materials especially stainless steel.
The primary reason for this being they hold there rigidity and hardness at a higher temperature than HSS drill bits.
All our cobalt drills have split points (self centring points).
Cobalt drills are more suited to CNC machines, Pillar Drills and Drill Presses due to the brittleness of the material compared to standard HSS.
Brand: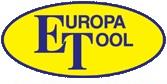 Manufacturers PN: 1120450