Become a Jones and Clark Account Customer
We exist to serve our business account customers.
Jones and Clark is a Business to Business (B2B) account only company. We aim to make our account customers more successful, profitable and effient by helping you to buy industrial supplies and source goods in a way that is easy, efficient and enjoyable.
The basic benefits of being a Jones and Clark account customer are that it enables you to buy goods with ease, take advantage of our sourcing expertise, access your account history and have an online account.
We offer 4 different types of account based on a unique service needs of our customers.
If you are not currently an account customer then you can open your Trade Account today by completing the online form below (we will respod within 1 hour during opening times):
You can also apply for a Professional Buyer, Expert Buyer and Expert Plus Buyer Credit Account by downloading the "Credit Accout Application Form" below: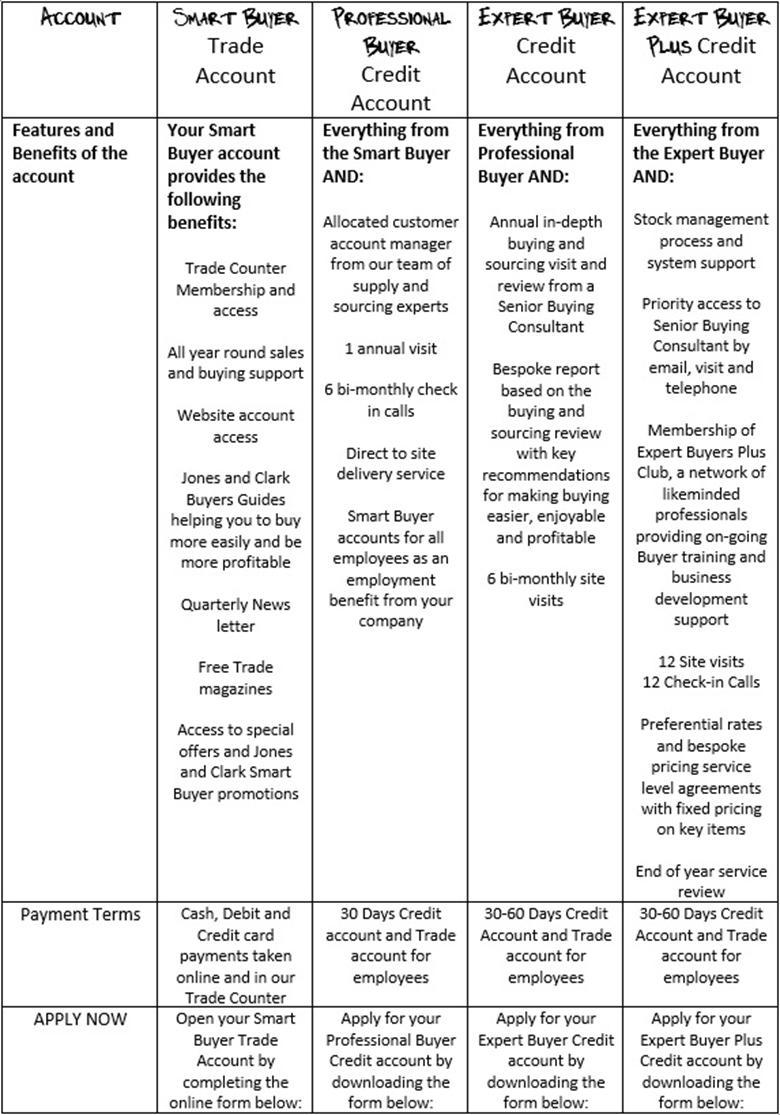 For Credit Accounts Only: You will be required to provide us with references, trading history and full company details for all credit accounts. We may visit your premises to review your credit application. We will consider your application and let you know if you have been successful within 5 working days of recieving your information. Credit Accounts will be opened at the discretion of our Directors and the Accounts and Administration Manager following the application process. We look forward to meeting your needs as an Account Customer.
Questions or Queries? Contact our Accounts department. We will be more than happy to answer any questions that you have about the process for opening your account.
Tel: 01283 541771
Fax: 01283 542662
Email:accounts@jonesandclark.co.uk
Credit Account Form